Controlling Myopia Progression Early
Myopia (nearsightedness) is a common vision condition that can affect children from a young age, causing distant objects to appear blurry. We know that kids often lead adventurous lives, and anything that prevents them from doing that can be frustrating.
Along with regular eye exams, our team provides proven myopia control methods such as ortho-k contact lenses, atropine drops, MiYOSMART spectacle lenses, and more.
Don't let myopia hold your kids back—visit us today to find the myopia control method that's right for them.
Book Appointment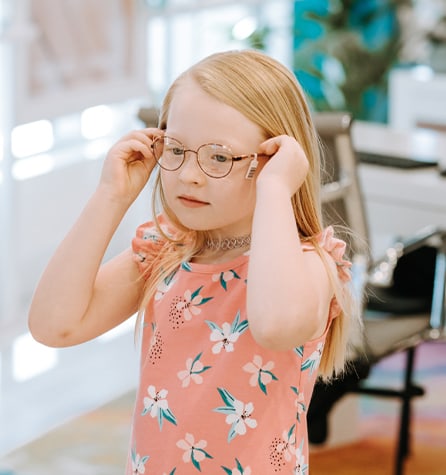 What Is Myopia Control?
While there's no cure for myopia, there are ways to manage and control its progression. Myopia control involves various techniques, such as specific types of lenses, soft contact lenses, ortho-k (corneal reshaping) lenses, specialty glasses, and even low-dose atropine eye drops.
These treatments can help slow down the progression of myopia. It's all about taking proactive steps to keep their myopia in check.
What Is Myopia?
Myopia or nearsightedness is a vision condition caused by a cornea that is curved too steeply or an elongated eyeball (measured as axial length). As a result, light doesn't focus correctly on the retina, causing distant objects, like whiteboards in classrooms, to appear blurry.
Some common symptoms of myopia can include:
Blurry vision when looking at faraway objects
Eye strain
Squinting to see distant objects
Headaches
If your child is experiencing these symptoms, contact our team to find out if myopia control could benefit them.
What Causes Myopia?
Myopia has both genetic and environmental causes. Kids are more likely to develop myopia—and progress at a faster rate—if at least one parent is nearsighted. Increased near work, like reading, drawing, and tablet use, is also linked to a higher likelihood of myopia in children.
What Is the Myopia Epidemic?
In 1983, the average onset of myopia was 11 years old. But by 2000 the average started as early as age 8. Myopia is affecting more people at a younger age. And the rates of myopia are expected to climb to almost 50% worldwide by 2050. That means 1 in every 10 people might face high myopia.
Myopia typically progresses from low to high until stabilizing in a person's early 20s. Preventing rapid progression is vital, as higher amounts of myopia increase the risk of severe vision loss, including eye conditions like cataracts, glaucoma, retinal tears detachment, and macular degeneration.
Vision & Learning Are Connected
When kids have trouble with their eyesight, it can impact their daily life at school, including reading from a distance, seeing the board, and participating in sports and other fun activities. This can lead to stress and confusion, and if left undiagnosed, it may cause them to fall behind their friends.
By seeking professional care and treatment options, like corrective lenses or ortho-k, you can help your child succeed inside and outside the classroom.
Our Myopia Control Solutions
We offer a variety of myopia control solutions, such as ortho-k contact lenses, MiYOSMART eyeglasses lenses, and atropine eye drops. It all starts with consistent eye exams which are essential to keeping our team up-to-date on changes in your child's vision.
If your kids are experiencing difficulties with their vision and you have myopia concerns, we're here to help.
Axial Length Measurements for Myopia
Axial length measurement is a painless and noninvasive procedure used to determine the length of your eyeball. Why is this important, you ask? Well, the length of your eyeball plays a crucial role in your vision health.
So, how does it work? During an axial length measurement, we'll use specialized equipment, such as an optical biometer or an A-scan ultrasound device, to obtain precise measurements of the distance from the front to the back of your eyeball.
Enroll in Our Myopia Control Program Today
We're eye-xcited to kickstart your child's myopia care! To join our myopia control program, there's an annual fee of $200 (with a valid SK health card). This covers all follow-ups with your optometrist. During each visit, your optometrist will check the prescription, measure the axial length (with a progression chart), and make any necessary treatment tweaks or updated recommendations.
We're all about giving our patients options when it comes to myopia control for their children. Reach out to us today to schedule an appointment and learn more!
Book Appointment
Visit Us
Kennedy Eye Clinic
You can find us inside the Lakeside Medical Building on McKercher and College Drive, with plenty of parking available out front.
We're closed on long weekends.
The Eye Studio by Kennedy Eye Clinic
You can find us on 8th Street and Broadway Avenue. There is lots of free parking directly out front.
We're closed on long weekends.
Our Address
100-215 Joseph Okemasis Drive

Saskatoon

,

SK

S7N 3A8
Our Hours
Monday

:

9:00 AM

–

5:30 PM

Tuesday

:

9:00 AM

–

5:30 PM

Wednesday

:

9:00 AM

–

5:30 PM

Thursday

:

9:00 AM

–

8:00 PM

Friday

:

9:00 AM

–

5:30 PM

Saturday

:

9:00 AM

–

3:00 PM

Sunday

:

Closed