Welcome to the Kennedy Eye Clinic Family: Where Passion & Quality Meet
At Kennedy Eye Clinic and The Eye Studio by Kennedy Eye Clinic, our mission is simple: Look your best. See your best. Feel your best. We take a local, customized, and caring approach to eye care!
We're excited to be a part of your healthcare journey–and we want you to feel right at home here. We love cracking jokes for a good laugh, but we're seriously passionate about eye care. At Kennedy Eye Clinic, we don't just meet your expectations—we strive to rise above them!
Our focus is on your family's well-being as we invest in technology to elevate the standard of care we provide. We're truly grateful for incredible patients like you who have played a crucial role in our growth and allowed us to give back to our amazing community.
Don't miss out on our eye-conic care. Book your appointment today!
Book Appointment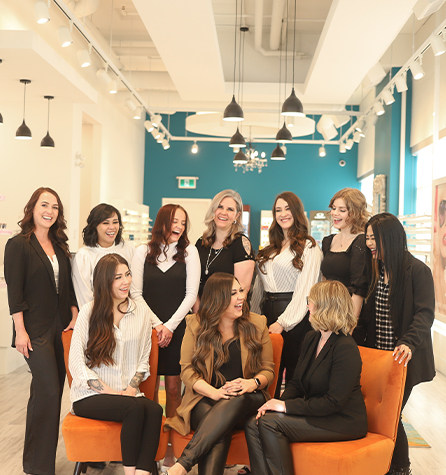 Our Commitment to Our Patients
Our patients are family, friends, and neighbours, so you can trust that we're committed to giving every single person an amazing experience. Our team wants you to become a part of our Kennedy Eye Clinic family so we can share our passion for eye care and love of helping people with you. Come and see why we do things differently and join the tens of thousands of people who already trust us to be a part of their healthcare team!
Our Core Values
At Kennedy Eye Clinic, we follow a set of core values that shape who we are as a small business and represent our commitment to our patients:
Excellent customer service
Integrity & honesty with no exceptions
Authenticity & always aligning our actions to our values
Innovation & commitment to using modern technologies
Continuous learning & challenging the status quo to seek improvement
Community involvement & giving back
Pride & heart in everything we do
Affordability & options for every budget
Testing Eye Health In-Depth with Technology
When we look into your eyes, we only have a small window—the pupil. But there's so much to see! Our eye doctors use dilation eye drops to get a fuller picture of your eye health. Routine dilated eye exams may not be necessary for everyone, as our technology allows us to perform less invasive testing. However, for greater detail, dilated eye exams are crucial for patients visiting us for diabetic eye exams, high prescriptions, and senior eye exams (over age 50).
Dilating your eyes can result in temporary blurred vision and light sensitivity, so organize a ride home or wait a few hours before driving. Don't forget to bring your sunglasses!
Optical Coherence Tomography (OCT)
Optical coherence tomography (OCT) uses light waves to create a detailed image, just like how an ultrasound uses sound waves. It's a noninvasive scan taken with a flash that generates a computerized, 3D image showing tissue layers in-depth.
OCT images can help guide treatment for eye conditions like glaucoma, macular degeneration (AMD), and diabetic eye disease.The test typically takes only 5–10 minutes. In some cases, we may suggest dilation to widen your pupil and help make it easier to examine the retina.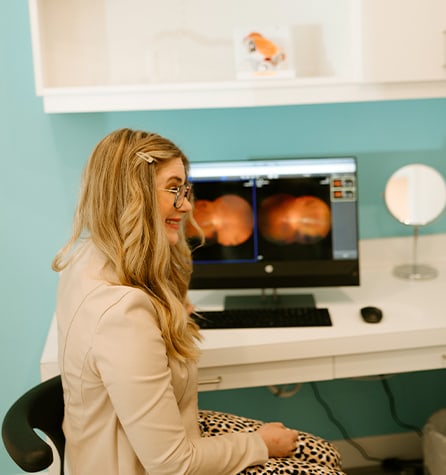 Retinal Imaging
Retinal imaging allows us to peek at the back of your eye, examining structures like the retina, optic nerve, and blood vessels. Capturing these inner eye images helps us track changes, personalize your care, and offer suggestions based on your risk factors.
Many health conditions, including eye diseases and systemic diseases like diabetes, multiple sclerosis, and hypertension, can be first spotted during an eye exam.
At Kennedy Eye Clinic, we offer 2 types of fundus photography:
Insurance & Payment Information
We directly bill most major insurance companies, as seen below. If you don't see your insurer on the list, give us a shout so we can look into it and see what we can do for you!
We also accept cash, debit, credit, cheque, and partner with PayBright for payment solutions.
Our Clinic Policies
Cancellation Policy
We operate with a 24-hour notice for all cancellations. No-shows and cancelled appointments (without enough notice) may pay a refundable $75.00 fee per person to book in again. This fee can be applied to your visit or refunded—however, if you fail to show up to an appointment again without 24 hours' notice, the fee will not be refunded. With that being said, we know that stuff comes up and unexpected things happen, so just give us a call, and we won't charge you the fee!
Contact Lens Fit Policy
You have 30 days from when we call you to book an appointment for a contact lens fit to finalize your contact lens prescription. If you fail to book this appointment after 30 days, we will be starting from scratch, and you will be charged an additional contact lens fit fee.
Contact Lens Price Match Guarantee
30 days from the time you order your contact lenses through us, we will price match all annual supplies (after rebate).
Returns & Refunds
At Kennedy Eye Clinic, we have a satisfaction guarantee policy. You can exchange your glasses for up to 60 days after pick up. While we can't issue a refund, we want you to be happy with your glasses, so we'll work with you to find a pair you love. All frames and lenses have a 1 to 2-year warranty depending on the manufacturer. We are also happy to exchange unopened boxes of contact lenses as long as they were purchased here and they aren't expired.
Visit Us
Kennedy Eye Clinic
You can find us inside the Lakeside Medical Building on McKercher and College Drive, with plenty of parking available out front.
We're closed on long weekends.
The Eye Studio by Kennedy Eye Clinic
You can find us on 8th Street and Broadway Avenue. There is lots of free parking directly out front.
We're closed on long weekends.
Our Address
100-215 Joseph Okemasis Drive

Saskatoon

,

SK

S7N 3A8
Our Hours
Monday

:

9:00 AM

–

5:30 PM

Tuesday

:

9:00 AM

–

5:30 PM

Wednesday

:

9:00 AM

–

5:30 PM

Thursday

:

9:00 AM

–

8:00 PM

Friday

:

9:00 AM

–

5:30 PM

Saturday

:

9:00 AM

–

3:00 PM

Sunday

:

Closed